Fundación Goteo and Platoniq join this initiative promoted by the Frena la Curva platform with the support of LAAAB (Gobierno de Aragón), Medialab Prado, Teamlabs, Citilab, Las Naves, ColaBoraBora, Hirikilabs, Ibercivis, Laboratorio 717, Medialab UGR, Medialab Prado, Innovación Ciudadana de la Secretaría General Iberoamericana, El Día Después, NovagobLab, Platoniq Lab, Fundación Goteo, ECODES.
On April 20, a call opened to develop projects with a collaborative approach over a period of ten days that will address the challenges we will face in the immediate future and that will probably define what kind of society we will be in the coming years.
Flatten the Curve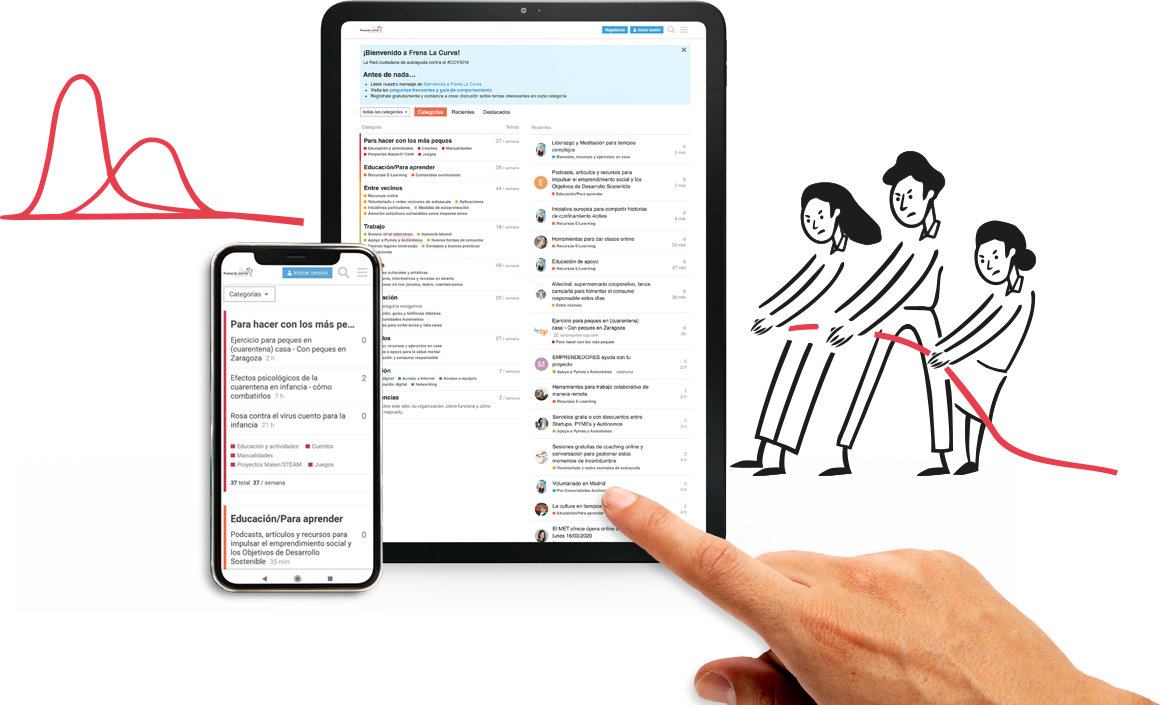 The Frena la Curva platform (flatten the curve) articulates solidarity initiatives that have emerged against the crisis by the COVID-19, so that citizens know where and how to support them.
Therefore, the Goteo and Platoniq Foundation have decided to contribute our experience in mentoring for the co-financing of projects through crowdfunding and processes of cooperation and social innovation distributed through dynamics.
The situation caused by the Coronavirus (COVID-19) is presenting us with an enormous challenge as a planet, as nations and as citizens.
Human beings in these last weeks have demonstrated that they are capable of adapting positively to adversities and a sign of this is the platform 'Stop the curve'.
Stop the Curve' is a response and a citizen network developed by activists, volunteers, makers, companies, social organizations and open innovation laboratories. It is an online platform that collects citizens' initiatives to organize and help during the health alert. Once all the information has been collected, the next step is to "set up concrete projects and organize teams of volunteers.
So far, Frena la Curva Spain has more than 600 initiatives registered and has been so successful in linking support to the needs of health professionals and citizens that it has already been replicated in several Latin American countries, including Mexico, Colombia and Argentina.
We are, of course, convinced that the challenges that come now and we must face the Common Challenges
Common Challenges

When we start to progressively de-escalate the social isolation measures against the pandemic, we will find a society affected by profound social and economic changes, but also by new digital resources, distributed and collaborative at local and global level, resulting from the incredible mobilization of civil society, citizen solidarity or accelerated innovation of processes in the public sector in collaboration with social organizations and companies in all sectors. These will be decisive months, where we must give the best of ourselves and we must remain more united than ever to continue defining what kind of society emerges from this historic transition.
Therefore, we invite the development of projects with a collaborative approach during the next ten days that will face the challenges we will face in the immediate future and that will probably define what kind of society we will be in the next few years.
Fases de la Convocatoria
This CALL FOR PROJECTS is addressed to any person or group interested in presenting proposals related to the selected themes and challenges. They can be functional ideas, projects that are underway or initiatives that are operating on a small scale and want to expand their scope. Proposals can be submitted by citizens from all over Latin America. The dates are distributed in such a way and you can also consult the graph: April 20 - 22: call for projects, April 23-25: team formation, May 26 - 1: teamwork, May 2: presentation of projects in festival Frena la Curva.
THEMATIC AREAS / CHALLENGES
The areas or challenges that each collaborative project should address may fall under the following:
Care as it relates to social reproduction and sustaining and growing spaces for community to survive and thrive such as anything that supports community or public health. This may involve access to clean water or electricity. More specifically this can mean care for the elderly, isolated, residents, and dependents, the list also includes children, their education, family reconciliation, neighborhood networks, community development, social activism, volunteer efforts. Efforts around youth and youth empowerment should be directed towards education and creating participatory spaces for young people. The call especially seeks to support vulnerable groups such as people without houses, victims of intimate partner violence and gendered violence, immigrants, refugees, and those suffering from childhood poverty.
In addition to care, the call also seeks those working within digital and ICT spaces. This can include anything that pertains to work such as teleworking, digitalization of services, e-administration. It can also mean citizen empowerment through citizen science, scientific and data journalism, data visualization, and addressing a digital divide. Finally, it can also be exploratory in terms of looking into emerging technologies.
Lastly, the call also seeks to support collaborative projects that pertain to economic and social development. This might pertain to commerce and consumption: local commerce, Km-0, local cooperatives, self-managed consumer groups, or the digitalization of small commerce. This could also mean culture, sustainable models, recovery of the sector, new formats. Also projects that address social income, precariousness, self-employment and employment. Or finally it might involve training for people from affected sectors, agile business reconversion.
Ten projects will be selected between 23-25 April, and partners will be invited to help develop them. The projects will be worked on collaboratively by multidisciplinary teams of citizens who will register to participate voluntarily once the proposal is published on the platform. The teams will preferably be between 10 and 20 people, but there will be no maximum limit.
DESAFÍOS COMUNES
Aware of the challenge, Common Challenges offers projects the support of specialized mentors throughout the process to develop a pilot, a prototype or a minimum viable product. It will also seek to encourage the connection of projects with organizations, groups or institutions that can support their development and implementation. The work will be done remotely and tools will be recommended to facilitate online work.
During the five days of work, the teams will receive specialized mentoring in five areas:
- Entrepreneurship and viability (implemented by TeamLabs)
- Social and citizen innovation (implemented by the teams of the open innovation laboratories that support Frena la Curva among others platoniq Lab, which will support from its expertise in democratic innovation and digital democracy)
- Digitization and emerging technologies (implemented by partner companies specialized in the ICT sector)
- Networking and communities (Stop the Curve activists)
- Agenda 2030 (Implemented by The Day After and other partners)
In addition, in this phase, daily live workshops open to the public will be held in the areas described above.
Both during the mentoring and, above all, during the final event on May 2nd, active work will be done to promote the connection of the projects with entities, innovation laboratories, companies and institutions that can support their continuity, by sponsoring the teams and initiatives. The connection with possible collective financing campaigns through the Goteo platform will also be facilitated.
In the context of the online festival "Frena la Curva" the projects will be presented in short interventions of 3-5 minutes on May 2nd, within a broader program from 16h to 23h that will include:
Inspiring TED conferences (less than 14 minutes) related to topics and challenges.
Round tables - discussions with 4-5 people about the challenges.
Practical workshops (an expanded version of those already done in the work week).
Presentations of the results of the projects (3-5 minutes each that would be interspersed throughout the event).
Participation in this call implies acceptance of all its bases and content.
COVID-19 & SDGs
The Sustainable Development Goals (SDGs) are a set of global objectives to eradicate poverty, protect the planet and ensure prosperity for all as part of a new Sustainable Development Agenda 2030, driven by world leaders since 2015.
Since the outbreak of the COVID-19 pandemic, the main priority of the SDG's is to combat its effects and save lives, especially those of the most vulnerable. However, some compliance indicators are already being severely affected. It is therefore more important than ever to insist on the need - for all, not just governments - to aim for Agenda 2030, recalling the integration of social, economic and environmental dimensions into our approaches and calling for cooperation in the face of isolationist temptations. As such, Common Challenges encourages participating projects to submit proposals that address issues related to the SDG, such as those described below (non-exhaustive and non-exclusive list):
How does COVID-19 affects SDGs?
As such, Common Challenges encourages participating projects to present proposals that address the issues related to the SDGs, such as those described below (not exhaustive or exclusive list).
Lower incomes increase poverty. Aid for dependence.
Pressure on food production and distribution systems.
Devastating effects on health systems. Need for solutions in supplies and infrastructure.
Need for long distance education that works for all people
Accentuated effects on women: work situations or gender violence
Washing and hygiene in conditions to avoid contagion in residential and sanitary areas
Ensure supplies and need to continue betting on clean energy
Decrease in employment with particular impact on certain profiles and sectors
Research, development and access to: vaccines, propagation models, technology platforms and networks
Equality between persons (origin, age, gender, etc.) and between territories, with special attention to migration
Implications of social distancing and reduced mobility in urban and rural areas
Deglobalization and reorientation of production (materials, personnel) and consumption
Shared reasons between health and climate crises, new post-crisis priorities
Ocean pollution from mismanagement of single-use protective materials
Links between disease and disappearance of terrestrial ecosystems and species trafficking
Securing supplies and the need for continued commitment to clean energy
Common and coordination mechanisms between governments, the private sector and civil society, at the global and local levels